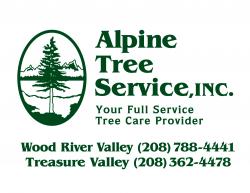 Tree climber/experienced trimmer
Featured
2019-07-09 Alpine Tree Service, Inc. P.O. Box 2790 $20+ DOE hour
Description:
Alpine Tree Service is currently looking for an experienced tree trimmer and/or climber full time. Knowledge of knots, proper pruning techniques, rigging, climbing with or without spurs, and safe practices is preferred. Having a class B CDL or higher is preferred or must be willing to obtain. Must be able to lift, pull, or drag 50 lbs repeatedly throughout a work day. Some traveling is required for jobs out of town, but never for extended periods of time. Pay is dependent upon experience.
Please check our website for more information on our company: alpinetreeservice.net
Do not contact this company in solicitation of any product or service.